King Gizzard & the Lizard Wizard
PetroDragonic Apocalypse; or, Dawn of Eternal Night: An Annihilation of Planet Earth and the Beginning of Merciless Damnation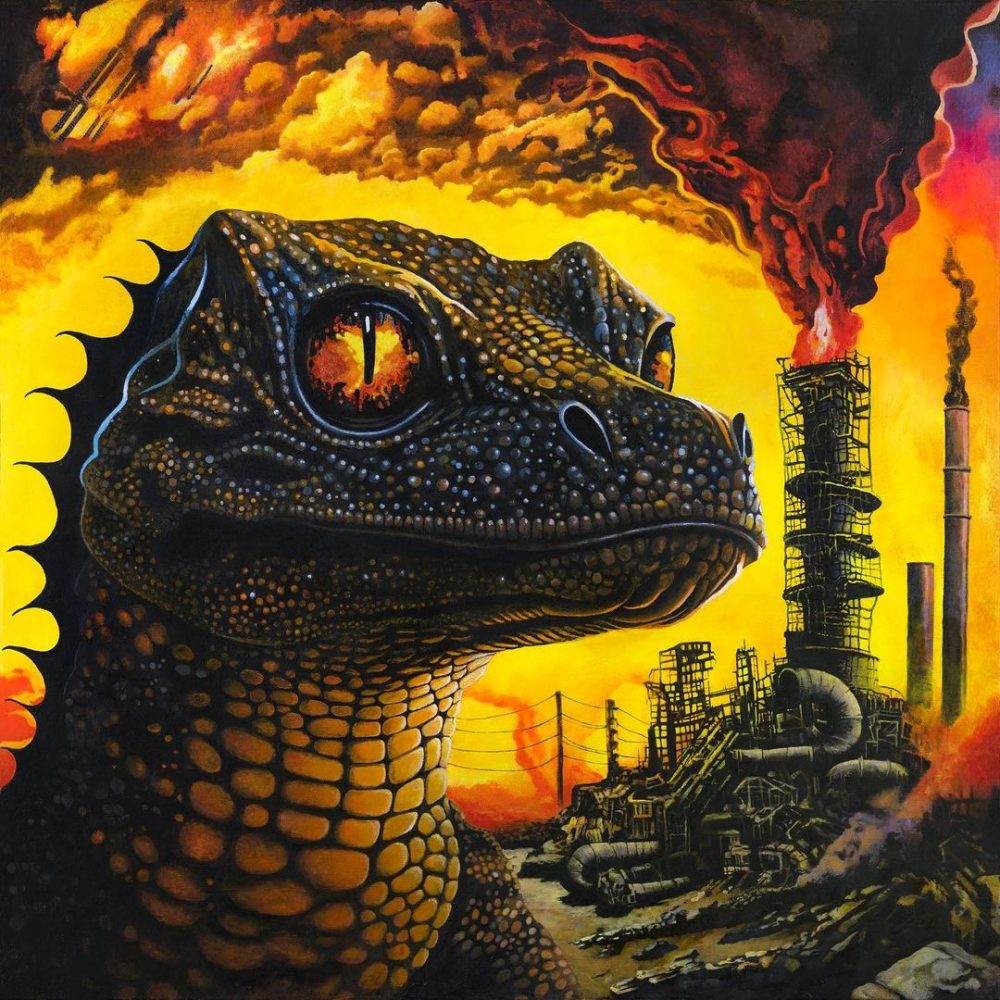 For the first time since 2019's shrapnel-hurling Infest the Rat's Nest, King Gizzard & the Lizard Wizard has delivered a full-bore, detuned, blast beat-bearing, end of the world-summoning metal album.
It should be noted that the Melbourne band has released 8 albums in that 5-year time period, all of which are richly variegated, idiomatically speaking, and all of which are conceptually sound and sturdy offerings, even if they weren't specifically "concept albums." So we shouldn't expect that PetroDragonic Apocalypse would sound like Rat's Nest Part 2, and it doesn't – KG&LW are more nuanced musicians than they were 5 years ago, and they were pretty damned nuanced back then. So what we have here is an album that is heavy enough to peel the paint from your walls and kill your neighbor's lawn, but also one that will make you giggle, and floor you with its mind-numbing compositional and musical virtuosity, if you're into that sort of thing. (I am, unapologetically. And if you're not, you've probably already stopped reading.)
Largely a celebration of the Phrygian mode – the album opens with 'Motor Spirit,' in B Phrygian, then moves a whole-tone northward into C# Phrygian for the cross-faded, face-melting trio of 'Supercell,' 'Converge,' and 'Witchcraft,' before returning to the, by contrast, more doom-laden B Phrygian for three songs that form the album's coda, 'Gila Monster,' 'Dragon' and 'Flamethrower' – PetroDragonic is at once hilarious and unsettling, silly and profoundly serious, gloriously pretentious and purposefully tongue-in cheek. It's also proof the band members' ability to find and mine sonic gold, even within these specific modal strictures. The collective musical imagination is the real star of the show here, as has been the case with all 23 studio albums KG&LW have released since 2012.
PetroDragonic does what so many metal albums fail to do – it tells a story of humanity getting its well-deserved comeuppance in the form of a Karmic apocalypse (somewhat standard conceptual metal fare, although the things that once sounded silly and over-the-top in the genre, lyrically speaking, now sound like straight reporting), while twisting the melodic and harmonic possibilities of heavy music into a sound that is simply exploding with musical and lyrical hooks.
At the core, KG&LW specializes in music that is progressive in the truest and most flattering sense of the word, whether the sound fits neatly into garage rock, micro-tonal surf music, stoner rock, psychedelia, avant-folk, R&B, or alternative/indie. So when guitarists/vocalists Stu Mackenzie and Joey Walker and drummer Michael Cavanagh – the biggest metal-heads in the band – convince the others that the band's 6th release in 18 months should be a prog-thrash effort, you cqn expect that it will be pushing the envelope a bit, even while it takes a knee before the form's progenitors. (Black Sabbath, Metallica, Motorhead, et al.)
Witnessing the end of man's dominance over the earth has never sounded like so much fun. Turn it up.