They needed a miracle, and they got one.
On May 8, Dead & Co performed at Barton Hall on the Cornell University campus in Ithaca, NY, site of the 5/8/77 Grateful Dead performance that is widely considered to be that band's greatest ever.
This was a dangerous gambit. In Grateful Dead lore, the '77 Barton Hall gig has assumed holy grail status, and with good reason – the Dead never sounded better than they did during that Spring of '77, and the Cornell show was quite likely the best of that bunch of shows, with the following day's Buffalo Memorial Auditorium gig (5/9/77) coming in a close second.
Why? There were so many factors.
The sound of the room, which should've been an acoustical disaster, since it's basically a gym, but somehow, wasn't; the incredible live mix afforded the band that night, and the impeccable soundboard recording made by longtime GD engineer Betty Cantor-Jackson; the killer setlist.
But mainly, it was the fact that the Dead were completely clicking on a deeply musical level at that original Barton Hall gig, as they were throughout the Spring 1977 tour. The drummers were on-point. Bassist Phil Lesh was clearly driving the bus, and never sounded better. The vocal blend was absolutely happening. Jerry Garcia was playing and singing at one of several career peaks, and Bobby Weir was tossing interesting chord inversions and rhythmic stabs in and around all of it.
Yes, it was magic. But it was a hard-earned magic. It didn't simply fall from the sky and land in Ithaca on 5/8/77.
Somehow, Dead & Co lived up to the considerable historical weight of the original event when the band – Weir, Mickey Hart, Jay Lane, John Mayer, Oteil Burbridge and Jeff Chimenti – returned to Cornell 46 years later for a show that officially launched this summer's tour, the band's farewell jaunt.
Nearly two months later, as the farewell tour kicks off its 3-night conclusion in San Francisco, it's abundantly clear that reclaiming Cornell was just the beginning. For in the time since, Dead & Co have made it plain not just that they're going out on top, but that this particular lineup is quite possibly the finest vessel of Grateful Dead music to emerge since the 1995 death of Jerry Garcia.
Why? How did this happen?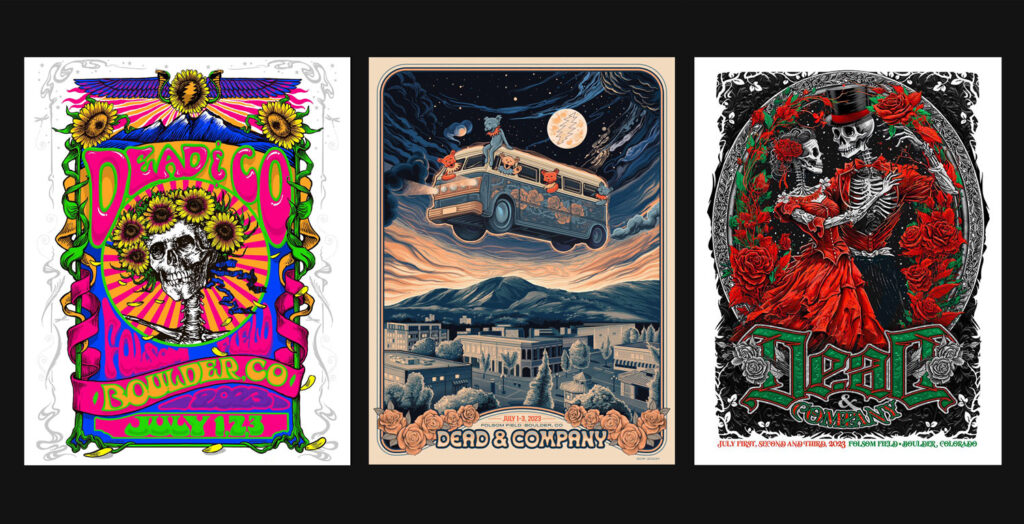 In my view, the answer has become more glaringly obvious with each successive show on this farewell tour. It's drummer Jay Lane's presence. Full stop.
This is in no way meant to diminish the work of original GD drummer Billy Kreutzmann, who bowed out of this final jaunt just prior to its launch, for reasons that have been much speculated about and ruminated upon, but are quite likely known only to him. Kreutzmann's contributions to the history of this music can not be over-estimated. His work is a prime ingredient of the Grateful Dead's gloriously shambolic, cosmos-enfolding sound. He gave his all, decade after decade, and he owes us absolutely nothing.
But Lane – a veteran of Primus, Ratdog, Furthur, the Uptones, and the Freaky Executives – has changed the course of Dead & Co's trajectory. It's not just the fact that he's a drummer capable of ably and gracefully blending rock solid time with serious chops. It's the way he changes the atmosphere, establishes the pocket, and so clearly affects the way his bandmates play, both individually and as an ensemble.
I am, among many other things, a long-serving Dead Head, and no Dead Head is supposed to say things like 'This is some of the finest Grateful Dead music I've ever heard,' in regards to any iteration of that music post Jerry Garcia's death. But as I streamed each night of this summer's tour, I found myself saying just that, and repeatedly. Hell, I'll say it again right now, just for kicks – this is on par with any Dead-related music I've ever heard, and I've heard almost all of it, including a handful of in-person Garcia experiences.
Sacrilege this may be, though it's certainly not intended as such.
With Lane in the cockpit, Mickey Hart's percussive forays sound much more rooted; Oteil Burbridge's bass playing is allowed to be funky, pockety, unabashedly virtuosic while still being rooted in the groove; John Mayer and Jeff Chimenti have been granted a broad canvas upon which to paint their harmonic portraits; and Bobby – well, his rhythmic counterpoint and stabbing commentary makes a ruggedly poetic sense. Add to this the interesting juxtapositions and re-imaginings of song placement within the set-lists, and the confidence and daring made explicit in this tour's many mind-blowingly unforgettable jams, and you've got absolutely top-tier GD music.
What happens after the final show in San Francisco on Sunday is anyone's guess. But I for one consider it a privilege to have been along for the ride as Dead & Co rides off into the sunset with style, grace and integrity.
You can stream these final shows via Nugs.net. And even if you remain on the fence bout the whole Dead & Co experiment, I truly believe you should.