The 2-set, 3-hour show celebrated Gabriel's bold new music and offered beautifully reimagined selections from his past
I wanted time to stand still.
I thought it might help me fully immerse myself in this music. It was so deep and so wide and so visceral. I wanted to reach out and touch it, somehow. To hold it for a while, and rescue it from fleeting impermanence.
That's a pretty tough ask for a rock concert in a hockey arena, I realize. But apparently, Peter Gabriel didn't get the memo about mandatory bombast in such settings. He treated KeyBank Center like an intimate theatre throughout his two-set concert on Friday. And he made it work. I left feeling like I'd had an audience with the Buddha himself, such gentle wisdom did Gabriel convey through his performance and his pretension-free conversation. 
Gabriel has never been one to follow the rules. He left Genesis just as that band was about to explode into commercial superstardom. And he never looked back. Which meant that anyone clinging to the absurd notion that Gabriel might break into a few old Genesis favorites during his Buffalo stop on the I/O tour was going to be sorely disappointed. (They also likely haven't been paying attention over the past nearly 50 years, because Gabriel has never played any of his former band's songs, and his aversion to cheap nostalgia has been a firm and enduring one. I bring this up only because I heard someone suggest that some of those songs would benefit the Buffalo show, as they scurried by my seat on the arena's 200 level, and I nearly spilled my beer, I was so annoyed. Alas…)
Gabriel and his outstanding band – longtime compatriots Tony Levin, Manu Katche and David Rhodes, and fresh additions Richard Evans, Ayanna Witter-Johnson, Marina Moore, Don McLean and Josh Shpak – had some serious business to attend to, and taking a warm bath in lazy nostalgia was not part of their plan. Instead, Gabriel led his ensemble through 2 and 1/2 hours of (mostly) radically reimagined gems from his solo career, and 11 songs from I/O, an album that hasn't yet been released (though most of these tunes have been released as singles, in conjunction with the cycles of the moon – a beautiful touch, that.)
The evening, like the new music, bent to the will and arc of an overarching theme, which might be whittled down to Gabriel's deeply held belief that we are all of us interconnected – with each other and with the earth and atmosphere and universe that gave us life. The song selection, and the elegant, understated but still awe-inspiring lighting and video accompaniment, took the listener on a journey, beginning with the Big Bang, and ending with an ode to the indomitability of the human spirt. The thematic agenda of interconnectivity was mirrored by the way that Gabriel and his octet made all of the music bow to conceptual continuity, as if all of it was brand new, regardless of its birth date.
He emerged onto the stage casually, alone, wearing a traditional Irish cap, and addressed the assembled.
"The only thing that can escape time is our imagination," he said. "So I'd like you to follow me four-and-a-half billion years back in time, when our planet was a dead planet and, according to some researchers, our means to life came from a meteorite elsewhere."  With that, Gabriel and bassist Levin gathered around a campfire set up in the center of the stage, and performed a heartrendingly eloquent, stripped back version of "Washing of the Water," with the other musicians emerging one by one from the wings to add subtle accompaniment.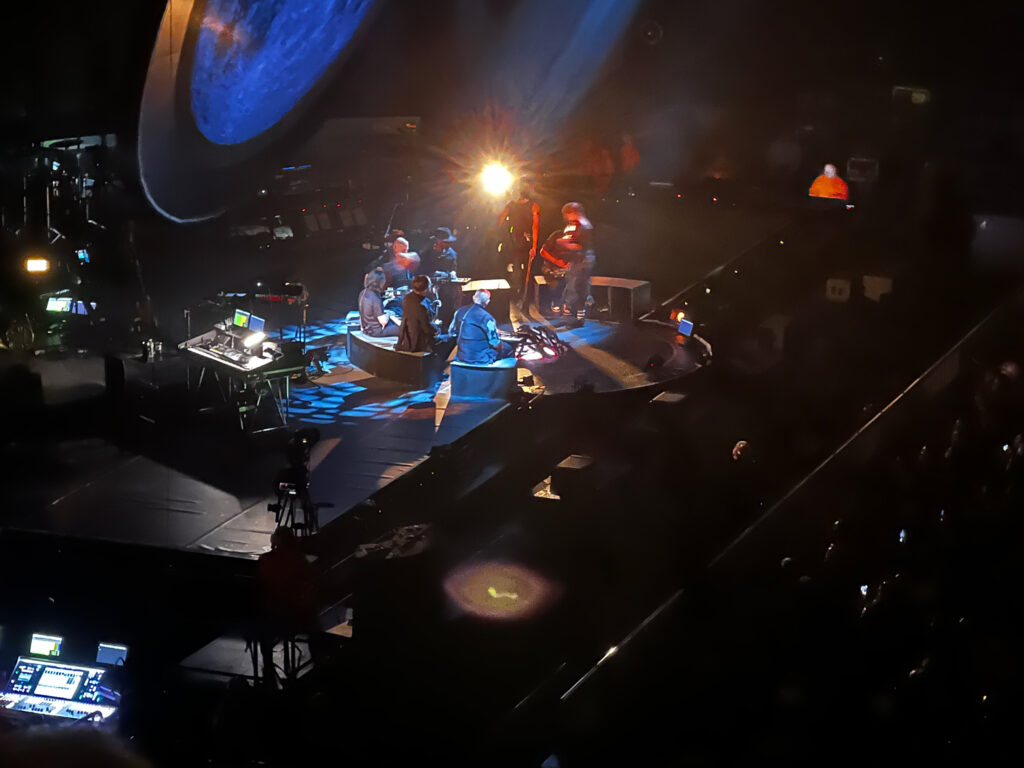 From that point forward, the show built gradually toward a harmonic fullness, with the addition of horns, cello, violin and various gorgeous keyboard washes creating a beautiful tapestry of sound. Gabriel reinvents himself with subtlety, always, but he indeed does reinvent himself, nonetheless.
The new material was likely challenging to anyone wholly unfamiliar with it, but such was the casual virtuosity of the ensemble that the listener had no choice but to be drawn into the sonic and spiritual world Gabriel summoned. Many of the pieces were essentially unconventional ballads, with lyrics soaked in empathy and occasional anger ("Four Kinds of Horses" comes to mind) and supple shifts in harmony, the through-line being Gabriel's still agile and emotion-soaked singing. 
Set one ended with a brash and brassy "Sledgehammer," as Gabriel and his bandmates danced with what looked like unfettered joy on their faces.
When they returned for set two, things hopped up a level in intensity, with a lithe and menacing take on "Darkness," a pathos-soaked "Love Can Heal," a jubilant "Road to Joy, " and a soul-stirring "Don't Give Up," during which cellist/vocalist Witter-Johnson interpreted the role Kate Bush filled on the original recording with elegance and virtuosity, and received a warm ovation from the crowd for her efforts.
Other new pieces included an inspired take on the dramatic "The Court," and a pair of transcendently beautiful song-poems, "And Still" and "Live and Let Live." Set two wrapped with an inventive new arrangement of "Salisbury Hill," before Gabriel and band returned for a pair of encores in the form of "In Your Eyes" and "Biko."
The sum effect was simply stunning, as if we'd all been gifted something that somehow would make us better people, something that might last, that might take up residence in our imaginations for the rest of the long haul.
It was the gift of connection. And it's a gift that music as profound as this is particularly well suited to giving.