Tyler Westcott talks 7th Annual Folkfaces Fest, Old First Ward Arts & Heritage Festival, and more
Last weekend's Borderland 2023 was a beautiful blow-out of a festival, and a more than fitting way to wind down an amazing summer of live music. Ahh, but it ain't over yet.
As I write this, I'm doing my best not to jump out of my skin with excitement over Peter Gabriel's first Western New York appearance since 1986, which takes place within less than 24 hours of this writing. The BPO is poised to kick off Maestro JoAnn Falletta's 25th season at the head of the Orchestra, and the season looks incredibly tantalizing. And some big gigs are on the horizon, as the concert action moves inside for the Fall and Winter season, among them the amazing Thundercat at Buffalo Riverworks on October 14, Ben Harper & the Innocent Criminals at UB's Center for the Arts on October 7, and Pat Metheny at that same venue on September 27. (You can read my interview with Metheny here.) 
I'm also excited for the 7th Annual Folkfaces Fest, which takes place at Cherry Hill Campground in Darien Center, NY, starting at 5 p.m. on September 28, and carrying on through midnight on October 1. I caught up with Folkfaces leader and festival founder Tyler Westcott earlier this week, and we talked about the history of this vital homegrown fest.
This is your 7th Folkfaces Fest. Tell me how you got all of this going, and what you've learned from the first 6 fests?
It started as a BBQ/crawfish boil birthday party I threw for myself in my mom's back yard in the country where I grew up, in Livingston County. Everyone came and camped all weekend. It was free to attend, or donation-based. I had one paid headliner – Baby Gramps. Everyone else volunteered.
The following year I rented out Cherry Hill Campground & I booked Dom Flemons, grammy- winning co-founder of the Carolina Chocolate Drops. Almost 60 bands. It grew exponentially in one year. Multiple stages, vendors, tickets etc.
I learned a whole lot between those two years. Since then, I've learned much more about running a festival. It's essentially like running a small village, one that happens to be having a party for 4 days.
After going to many festivals, I had in mind that I wanted to do away with a lot of seemingly unnecessary hoops that festivals make you jump through. Like hidden fees and nickel& dime-ing festival goers. I wanted to keep it affordable. But as the years go by and lineups and bands get bigger, I started to understand why some of these practices are in place.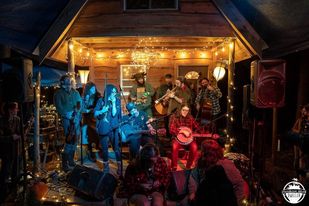 Scenes from Folkfaces Fests past.
At the core of the festival is a celebration of roots music and Americana. What does this music mean to you? What is your history with it? Why do you think it deserve it's own festival in Western New York?
Well, it started as an event where I invite my friends to come and play music. And that's still exactly what it is.
I try to curate an eclectic lineup within the roots & world music scene. I think by supporting art and putting artists on stage you enjoy, you make more room for your own art in the world. People see it and say, 'Oh ,I guess Folkfaces isn't that weird, this band does that weird thing too!'
I love raw, energetic, or deeply sad folk music. I've traveled all over the country and hosted bands on tour at my home for many years. It means the world to me when I can invite them to showcase theirs talents and give them a platform to reach the community of music lovers in Western NY.
Folk festivals have been around as long as people have, and I think that getting out and seeing how different people are writing and performing original and traditional music helps inspire and add to the great tapestry of songs we have in the is world.
Americana music can have a very broad definition. How would you define it, if pressed?
I've never loved the term 'Americana' – it's a little vague to me. In my view, it conjures images of Norman Rockwell paintings. I have, however, been a fan of genre-defying bands. So if that's a word you can use to not be pigeon-holed as just one thing, then I am all for it!
Talk a bit about the community that has built up around Folkfaces Fest over the years.
We've had a nice little community come together over the years. I've forged friendships with people I didn't expect to!
It takes lots of work. Really, our crew is pretty small. It's me, my family, the campground owners, and a small group of friends and volunteers that make it all happen. And as far as the attendees – we have some of the nicest people in the world. Folks clean up after themselves and are quite respectful of the land and artists. It's a pretty wholesome family vibe. I mean we get wild, too, but it's all nothing but friendly people. Some tough folks, too, because it can get cold camping this time of year in this part of the world! I've met a great crew of vendors and artists through this event as well.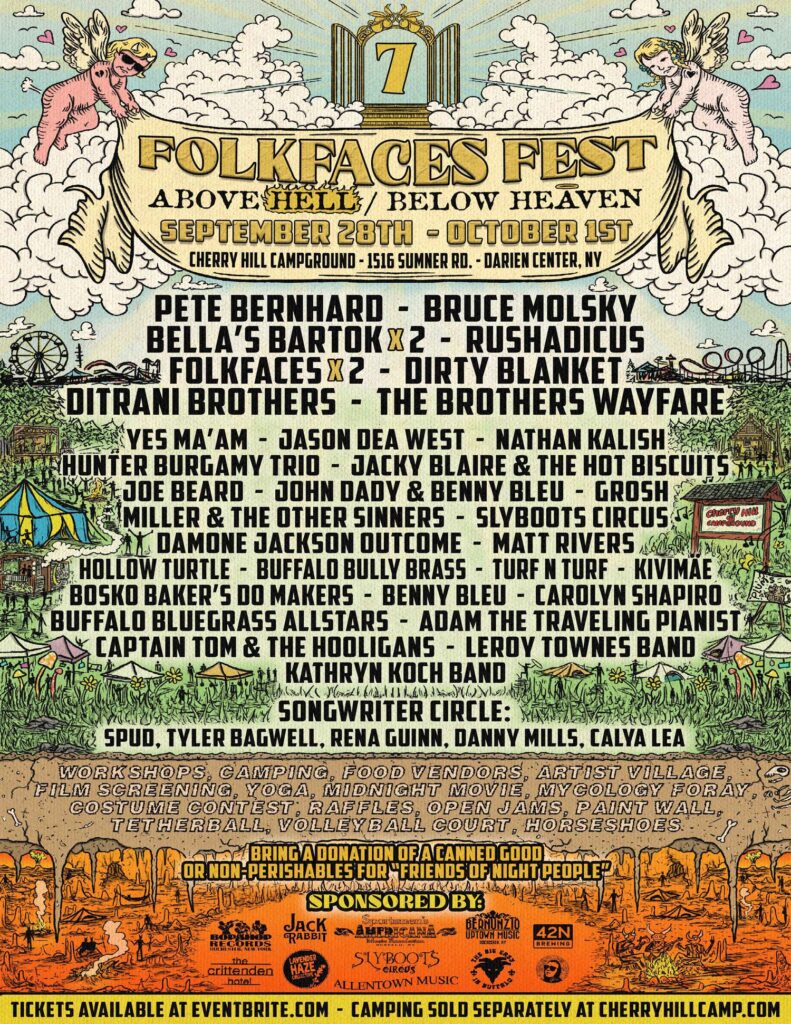 Talk about some of the ancillary events at the festival – the film element, square dances, artisan workshops, etc. Have these played a big part in establishing the festival's identity?
I love that there's more going on than just the music. Really, it's hard to do everything. I'm working on that.
The film fest is always wonderful. Matt from Well Worn Boot curates some great local films. We get a popcorn maker. We also play movies that go along with the theme, late night. It's a nice, chilled-out alternative to the late-night music.
The square-dance is a fun way to meet and get to know your fellow festival-goers. Good, clean fun. People love meeting the artists and learning from them. It's exciting to be able to ask questions and be in person with such inspiring folks. I'd love to add more workshops cause there's so much that people have to offer and share. Only so much you can pack into 4 days! I think that the workshops add a whole lot to event.
Also worth your attention and/or dollar:
The Old First Ward Arts & Heritage Festival takes place at the Old First Ward Community Center, Republic Street, between Tennessee and Vandallia Street, in downtown Buffalo, on September 22 at 5 p.m. The free event features an impressive list of regional roots music artists, including the Leroy Townes Band, Ten Cent Howl, Brothers Blue, Yellow Jack, Crikwater, Kickstart Rumble, Uncle ben's Remedy, Creek Bend, Leah Rankin, Johnny Hart & the Mess, Grace Stumberg, ph, and the Echoes. This free, family-friendly, well-stocked gig in one of Buffalo's oldest neighborhoods is an all-weather affair. Oh, and if you partake, there will be beer and wine (and food) vendors on site throughout.
Kim Mitchell with guests Coney Hatch, September 23 at 8 p.m., Riviera Theatre, 67 Webster Street, Tonawanda;the Whitford/Klyma Band featuring Cathy Carfagna, Jamie Sunshine and Ed Croft, September 22 at 6 p.m., Duende @ Silo City, Free; Workingman's Dead Benefit for the Family of Casey Bloom,  September 22 at 8 p.m., Buffalo Iron Works; The Strictly Hip with Uncle Ben's Remedy, September 22 at 7 p.m., the Town Ballroom, $20; WNY Dead, September 23 at 6 p.m., Rationales, 5444 Main Street, Williamsville, Free; Helmet, with guest Soul Blind, September 26 at 7 p.m., the Rec Room, 79 West Chippewa Street, Buffalo, $40; Joan Osborne with Jill Sobule, September 26 at 8 p.m., the Riviera Theatre, 67 Webster Street, Tonawanda, $29; Peelander – Z with Dog Party,September 26 t 8 p.m., Mohawk Place, 47 East Mohawk Street, Buffalo, $18/$22.