And they're off…
The summer concert season moves from tentative first-step to straight-up mad dash this week, without so much as a pause for a quick gear shift in between.
Several outdoor summer series get started this week, notably the Live at Larkin season, which boasts a stellar lineup this year, as well the more sporadic but also enticing Dead of Summer series at the Hilltop Inn & Grove in Alden. Of course, not all the action will be happening outdoors – the bars and concert clubs aren't pausing to take a breath either, with stacked rosters in every nook and cranny of the Buffalo region, this week and every week throughout the summer.
Of course, we suffer for 6 months of the year so that we can enjoy these glorious weather days, and effortless entertainment is, appropriately enough, the name of the game. But I do recommend you make a point this week of checking out a show that will be both musically jubilant and civically responsible. The Buffalo String Works Spring Concert & 2023 Benefit takes place at Asbury Hall, Babeville, on June 8 at 6 p.m. Come and support the sacred space where great music and the finer aspects of humanity commingle to do good work in the real world. Buffalo String Works helps Buffalo refugee and immigrant children assimilate to the community through the study and performance of music. All 165 BSW students will perform during the evening!
See you out there at show!
Dirty Work: A Tribute to Steely Dan
Live at Larkin, Larkin Square June 7 at 5 p.m.
If you haven't yet caught Dirty Work in concert, and your mind is open to that magical area where finely honed composition meets the majesty of top-tier, in the moment improvisation – well, you're in for a treat for this show, the kickoff party for thew 2023 Live at Larkin series. This band of Buffalo-based musos features Mike Gantzer, Dave Loss and Evan McPhaden of Aqueous, Ryan John Nogle of Funktional Flow, keyboardist Harry Graser, as well as a full horn section, fearlessly tackling the top of the pile and the dark, often unexplored corners of the Steely Dan oeuvre. The band nails the compositional elements of the Donald Fagen & Walter Becker songbook with both respect and precision. But the solo sections become a blank canvas for real-time experimentation and improvisation. For the open-minded, this is surely the very best of both worlds.
Stress Dolls
with Cooler, Starjuice & Tsunami Tsuprise
Oxford Pennant Stage at the Town Ballroom, June 9 at 7 p.m.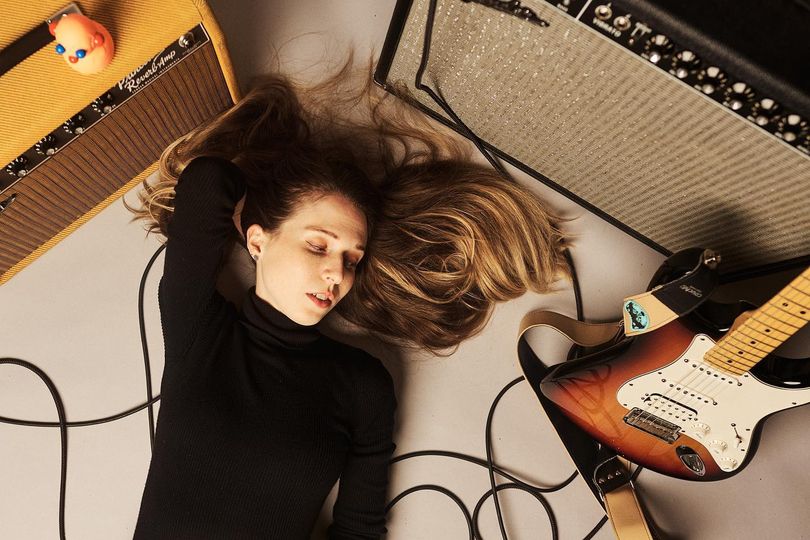 Chelsea O'Donnell has been crafting a unique take on alternative rock stylings for nearly a decade now, as Stress Dolls evolved from a band, into a solo act, and now, following a brief relocation to Nashville, TN, a combination of both – O'Donnell is equally comfortable and adept performing more intimate shows as a solo artist or fronting a band performing fully fleshed arrangements of poetically detailed, melodically striking songs. This show on the Town Ballroom's Oxfoprd Pennant Stage will feature the full Stress Dolls ensemble, with drummer Josh English, bassist TJ Luckman and guitarist Jordan Smith joining O'Donnell. Note that this is an all-ages show, with the caveat that minors under the age of 6 must be accompanied by a parent.
Live Dead '69
Sportsmens Tavern, June 7 at 7 p.m.
Many Deadheads cit the band's late-60s final run of full-on psychedelia as one of the prime periods in GD history. If you love the albums "Aoxomoxoa" and "Live/Dead" – as, let's face it, you should – then Live Dead '69 is not to be missed. Featuring the Dead's keyboardist from that era, the pianist and experimental composer Tom Constanten, as well as the brilliant Ratdog guitarist Mark Karan, Starship guitarist Slick Aguilar, Jerry Garcia Band drummer Pete Lavezolli, and bassist Michael Robbins, Live Dead '69 will take you back to the days of the Acid Tests in the San Francisco Bay Area, minus the aid of the giant vats of technicolor kool-aid. Buckle up, travelers!
Organ Fairchild & The Funk Knights play a free outdoor show at Cazenovia Park on June 8, beginning at 5 p.m., as part of the Music in the Park series. The show is all ages, and local food and beer vendors will be on site!
On June 4 at 4 p.m., Michael Jackson Vs. Bruno Mars featuring Universal Phunk takes over Buffalo Iron Works for an early show hosted by DJ Hassan.
In the "it had to happen" category, Mohawk Place is presenting Tragedy: All-Metal Tribute To The Bee Gees & Beyond, featuring Beatallica and special guests Furious George, on June 8 at 5:30 p.m. Ride the lightning all the way to the disco!
Dead of Summer I, at the Hilltop Inn & Grove in Alden, kicks off at 3 p.m. on June 3, and features sets from WNY Dead (4 p.m. – 5:30 p.m.) and Queen City Jamboree playing the music of the Jerry Garcia Band (6:30 p.m. – 10 p.m.)
Rush tribute ensemble the Analog Kids make their Samuel's Grande Manor debut on June 3 at 8 p.m. This will be presented in the "an evening with" format, meaning there will be no opening band, so get there on time!
The Ones You Can't Have will celebrate the music of the gloriously mopey The Smiths at 8 p.m. June 3 at The Cave.
Killer Kiss tribute band Kiss This will don the greasepaint and the platforms to perform twin sets of Kiss classics and deep cuts, on the Rooftop at the SkyBar in downtown Buffalo at 7 p.m. on June 3.