The Great Flamingle II, Lazlo Hollyfeld and The Damone Jackson Outcome, Larkin Poe with the Allman Betts Band, and more
I've been on vacation, which essentially means I did everything I usually do – went to concerts, streamed concerts, or performed concerts – but I didn't write about any of it (Much.)
It's good to be back! And equally good to know that the insanity of our music-lover's summer continued apace, even without the benefit of me scribbling about the wild and weird wonder of it all.
A few things to keep on our collective radar, as the summer picks up speed for its remaining weeks and our plans stack up like dogs in a pile. (More on them later.) Around here, I feel like it's June, and you blink your eyes, and suddenly you're at the Borderland Festival for the last big Buffalo summer hurrah…
First off, if you haven't heard, Buffalo's own groove-rock collective Aqueous has announced its second annual Great Flamingle Festival, in conjunction with the fine, friendly, music-adoring folks at Jack Rabbit. The Great Flamingle II takes place on August 11 and 12 at the Great Blue Heron Music Festival Grounds. This year's lineup is stacked to the point of almost being ridiculous, if you're a fan of adventurous, exploratory music. (Can you tell I'm tired of typing the somewhat pejorative 'Jam Band' descriptive?)

Aqueous will perform 5 (!) sets throughout the weekend, and they'll be joined by Dopapod, Tauk, Fernway, Mungion, Sophistafunk, Tand, Cypher, Witty Tarbox, Flamingosis, Aircraft, the Pickle Mafia, Grace Serene and the Super Clean, the Damone Jackson Outcome, Trailheads, Ellen Pieroni's Encyclopedia of Soul, and Turtle Logic. Wanna go? Check thegreatflamingle.com.
Speaking of killer bills, there's a big ol' rock show coming to Black Rock on August 12, when Sportsmen's Park hosts the Sheila Divine, Tugboat Annie, Thee Isolators, Matt Smith, Truss, and Grosh, beginning at 4 p.m. You can grab tickets for that one here.
Finally, the annual Beatles Rooftop Concert, during which the Black Rock Beatles perform the Fab Four's final concert, and toss in a bunch of other Beatles favorites as well, is officially sold out. However, if you're looking for a last-minute miracle, a waiting list for tickets to the July 26 Larkin Square show can be found at LarkinSquare.com.
Here's a few don't miss shows for the coming week…
July 27 at 5 p.m., Thursday and Main, Fountain Plaza, Buffalo
The Thursday and Main concert series at Fountain Plaza on Main St. in Downtown Buffalo wraps what's been an incredible lineup with a double-bill that fits into the 'it had to happen' category. Lazlo Hollyfeld's marriage of spacious, groove-centric alternative and the Damone Jackson Outcome's daring fusion of multiple idioms – from blazing progressive sounds to electro grooves, funk to hip-hop, all performed with a fearless improvisational ethic – make for a perfect cocktail of forward-looking Buffalo music. Get there on time! Downbeat is at 5 p.m. sharp.
Larkin Poe with the Allman Betts Band
July 27 at Artwork Amphitheater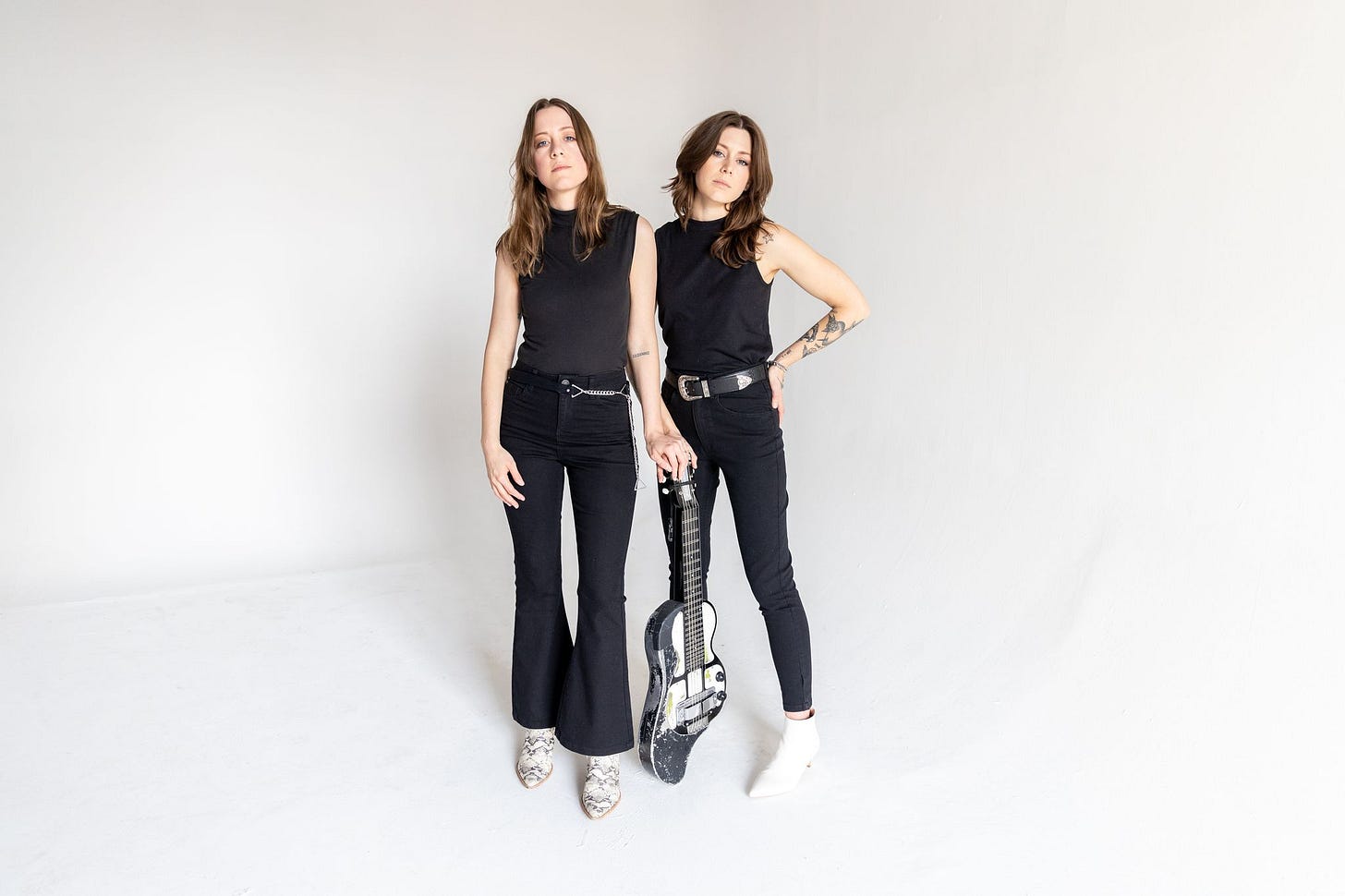 Buffalo audiences are no strangers to the pure sonic fire summoned by sisters Rebecca and Megan Lovell, who trade beneath the Larkin Poe imprimatur. The pair's blazing southern soul and searing blues have lit up many a summer stage around here over the past decade, and if you're at all like me, you found your first experience with the sisters and their ensemble to be an indelible one. This inventive Artwork billing pairs Larkin Poe with an outfit formed by the offspring of three founding members of the Allman Brothers Band – Devon Allman, Duane Betts and Berry Duane Oakley can't help but sound like their fathers, but the Allman Betts Band has crafted its own blend of Southern soul, blues and jam influences. This one can't miss.
July 22 at Lincoln Hill Farms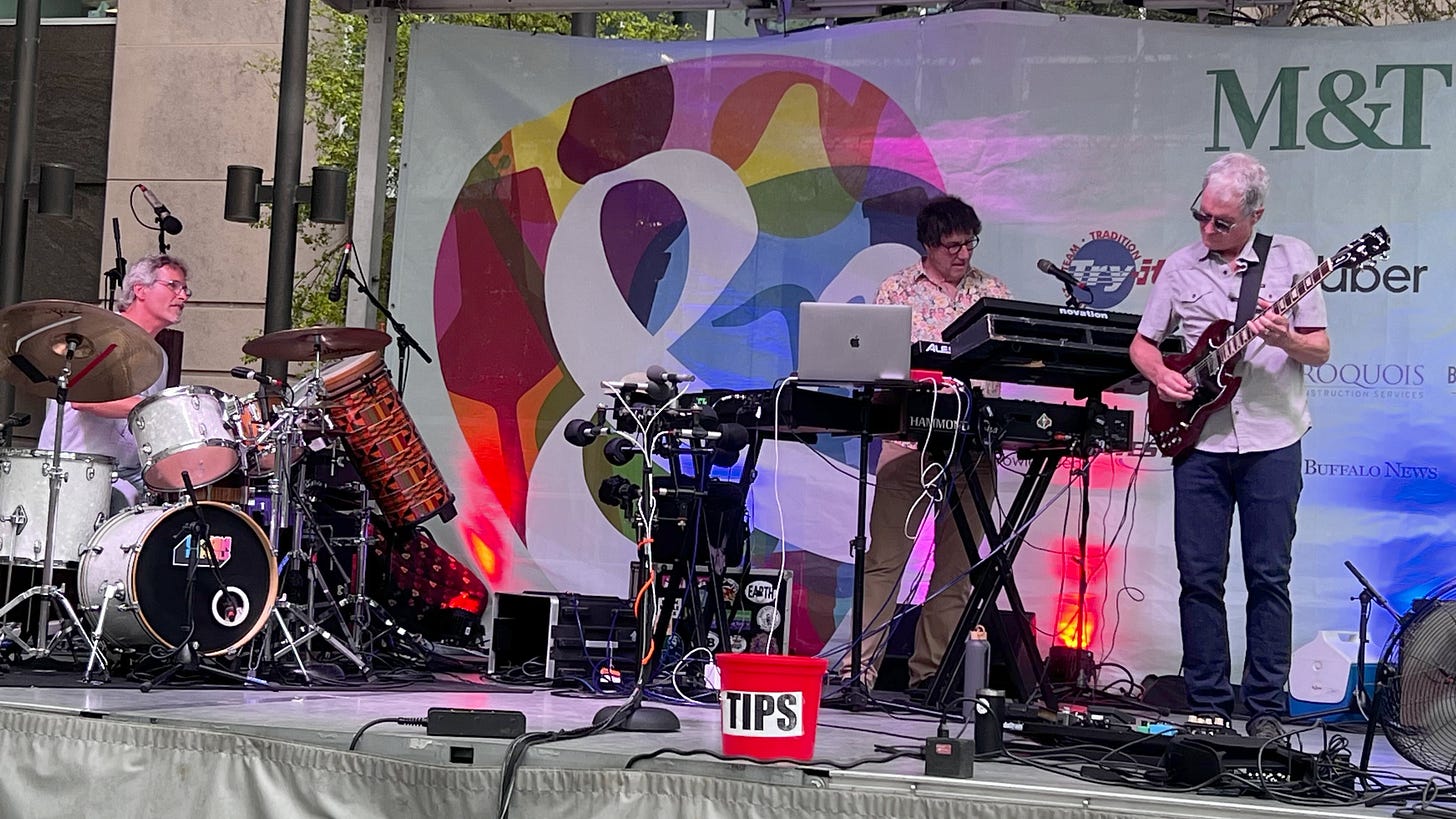 A gig worth logging a few road miles for. Asbury Park, NJ – perhaps you've heard of the place – has been a breeding ground for some serious hybridizations of various forms of American music, and that tradition is being carried on by the young musicians forming Dogs In A Pile. The band has performed at Buffalo Iron Works and as part of last year's Borderland Festival, but in the time since, has become a name to be reckoned with on the psychedelic/funk/jam scene.
Buffalo-born organ trio Organ Fairchild – who played an incendiary, though sadly bad weather-abbreviated set at Fountain Plaza earlier this week – joins DIAP for this funky throw-down in Canandaigua, NY.